check out our library of online events
THRIVEtoday has numerous opportunities for individuals  who want to transform their ability to connect with others in joy.  We know that consistent practice can heal and change our brains. We suggest you grab your spouse or find a friend then learn together.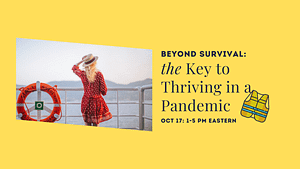 Beyond Survival: the Key to Thriving in a Pandemic
This has been a stressful season for all of us: pandemics, politics, not to mention the tensions and challenges we face in our own homes! THRIVEtoday's President, Chris Coursey, has the answer to breathing and coming out the other side of these difficult and stressful times.
Join Chris as he shares critical insight into how our brains function in times of crisis and what to do about it. You will have the opportunity to practice skills to help you build resilience and relational health no matter what your circumstances.
Thriving Marriage Date Night Bundle
Join THRIVEtoday founders, Chris and Jen Coursey, for 3 at-home date nights!
Each date is fun and fantastic on its own, but you'll get the most out of it if you can attend all three nights. (There's also a special rate for signing up for all three!)
Date Night 1 – Overcoming Pitfalls of Communication
Date Night 2 – How to Have Relational Conflict
Date Night 3 – Understanding Your Marriage Dance
Encouragement for Maxed Out Moms

#MomLife is Hard – and even harder now in this pandemic season! With more to manage than ever before, moms are maxed out. Give mom a few hours off to spend time with other moms in the same mess. Mom – come listen, learn, and be with other moms who are sharing their hearts and strategies about how to find and spread joy. We'll be sharing tools to help you enjoy your family more and ways to help you find refreshment in the midst of the chaos. This is a time of rest, relaxation, and renewal for you to be restored in your mama heart.
NOTE: This Post-Event recording is available for group purchase. Please only share video and handout links with the number of people that you have purchased for. Thank you!
THRIVING MARRIAGE DATE NIGHT 1
Communication is one of the top challenges in most marriages. However, much like an iceberg, good communication involves more than the words we use. It's the nonverbal elements behind our words that pack a punch.
In this first Date Night, Chris and Jen share about communication from a new perspective. Join us for a fun evening as they share simple techniques that will be game changers for your communication. Learn to tell the difference between when words help and hurt. This evening will fill your marriage tool-box and leave you feeling energized and connected.
THRIVING MARRIAGE DATE NIGHT 2
Wait a minute, it's actually possible to stay relationally connected during conflict? Join Chris and Jen for a in-depth look at what it means to keep the relationship bigger than the problem and learn the biggest factor that will determine how well you will be able to resolve conflict in your marriage. This evening will provide teaching and exercises that will bring a deeper peace and connection in your home. The best part: much of what you learn can be used for resolving conflict almost anywhere!
THRIVING MARRIAGE DATE NIGHT 3
We've all heard the phrase, "give and take," and many wives might say, "I give, he takes." But what if the marriage dance we need to do isn't give and take, but joy and rest? Learning and implementing these key elements into your marriage make for an easy give and take that both spouses can enjoy.
This 3-hour introductory training focuses on Skill 4 (Appreciation) and Skill 13 (See What God Sees) and will help you build a foundation of understanding how we are created for relationships. You will learn how these skills can transform our identities and relationships. Begin to transform how your brain is wired and your everyday interactions with the people you love. Aired February 1 , 2020